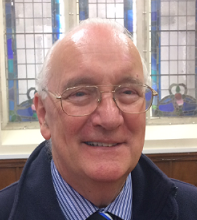 John W Morgan   
Director of Business Development – Ferguson Marine Engineering Limited
"Rebirth of the Clyde"
Born in Govan; John moved to Greenock when he was 3; and on to Bridge of Allan when he was 18, where he has lived ever since.  He calls it: "Glasgow born; Greenock bred; Bridge of Allan Refined.  Had a lifetime career in advertising and marketing, owning and running advertising agencies in Glasgow and Edinburgh.
Saw the light in 2015, when he joined Jim McColl's rescue of the Ferguson's shipyard in Port Glasgow as Director of Business Development, thus closing the circle –  his father, Uncles, father-in-law and grandfather all having worked in shipbuilding on the Clyde.
The River Clyde was once reputed to the best location for shipbuilding in the British Empire, and the world's preeminent shipbuilding centre. 'Clydebuilt' became an industry benchmark of quality. However, the world changed and the Clyde didn't and, when it went into administration in 2014, Ferguson Shipbuilders was the last commercial ship builder on the River.
Jim McColl OBE was determined that would not be the end of the story and his investment company, Clyde Blowers Capital paid £1 million to save the yard.    By the end of September 2017 CBC will have spent  £25 million on completely rebuilding and refitting Ferguson Marine, turning it into one of the most advanced shipyards in the world.  Fergusons built the world's first Battery Hybrid ferry; is now building two of the UK's first Liquidised natural Gas (LNG) CalMac ferries; and is racing to launch the world's first seagoing Hydrogen ferry by 2020
Winner (June) of the 2017 Inverclyde Chamber of Commerce Business awards for "Best performing large Business " and "Manufacturer or producer of the Year", the company continues to Innovate and build for the future with no fewer than 35 apprentices, with 15 more joining this year – and a target of 150 by 2020.