Welcome to Kelvin Probus Club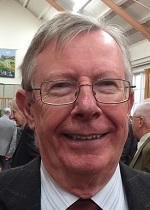 Like the rest of the country Kelvin Probus Club is in hibernation during the ongoing Covid-19 crisis.  However, when the Club restarts, the Club will welcome retired and semi-retired people in the North West Sector of the City to come along.  We have a programme of interesting bi-monthly meetings ready to keep members' social and mental faculties working!  There will also be other activities such as walking or attending some of the other social activities such as a visit to a museum, theatre or place of special interest.
Visitors are welcome.  (Contact us)

All being well we hope to re-commence our meetings on Tuesday 8th September.  The Club meets at Jordanhill Parish Church, Woodend Drive, G13 1QT (See Find Us).  Tea and coffee and opportunity for a chat will be available from 10am prior to the meeting start at 10:30 am.  For a flavour of our meetings click on Programme above and read the blogs available.  (Find us)
   

John Walls – President

     

2019-20
Next Meeting
While members are champing at the bit to get back to Probus events after the lockdown ends on Tuesday 8th September, the Committee is keeping the situation under constant review.  The key thing is that we have a programme of speakers in place for the 2020-21 session up to Christmas.
In the meantime, bi-monthly emails will continue to be sent out to members during the lockdown.  Each one will have a blog on a topical subject or a 'rant' prepared by a member to keep you entertained.  For the more adventurous members who have joined the Slack App group, there is an opportunity to have a 'virtual meeting' on the due bi-monthly dates between 10:30 and 11:30 am.  Contact John Walls if you are interested in joining.
The weblink is :   http://kelvinprobus.slack.com/
Coming Events (Link to the events pages:)
None Scheduled due to Covid-19

Next Walk (Link to the walkers pages.)
The members of the Walking Group are raring to go pending the get go from government.  In the meantime, most days the majority are out walking on their own or with family to maintain their 'match fitness'.  Both the weather and the Spring bloom have been a real boon.  Those who joined Hamish's WhatsApp group are being kept entertained by walkers' contributions ranging from mile counts, dog walker numbers, photos and internet funnies.  Contact Hamish if you wish to join.
Application forms from retired professional or business men or women may be obtained from the Club Secretary.  (Click Here).