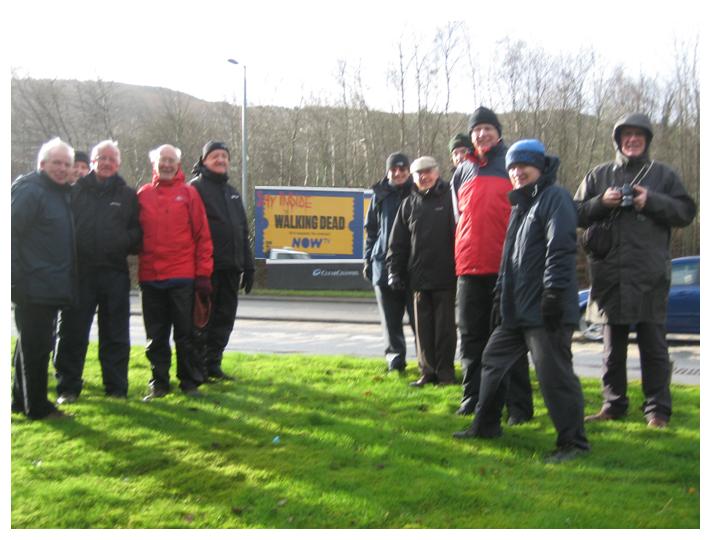 (Photo – Gallery)
Next walk
COVID precautions:   All usual precautions are observed and you have a mask if it is needed.
 Dec 5 2023:  Robroyston to Provan Hall.      Single to Robroyston – (Change for 9:53 to Robroyston at Queen Street platform 1), , Anniesland 9:19 (could change at Hyndland), Jordanhill 9:22 to Hyndland,  Hyndland 9:31, Partick 9:33.  Returning by bus
(Bring Mobile – switched on! and – For the sake of all – do not join the walk if yuou have flu or other symptoms.)
When cars re mode of transport – Please advise Hamish in advance if you can offer a car or are attending, in order to guarantee sufficient transport. Will plan on 3 passengers plus driver per car maximum.
Previous Walks
Nov 21 2023:

Gleniffer Braes (Paisley) 4.6 miles over walkway and tracks – uneven and muddy underfoot with a gradual incline. Excellent views over Glasgow, and good mix of scenery with manificent waterfall. 

Oct 31 2023:

Dalzell Estate & Baron's Haugh.  Return to Airbles – Anniesland 9:06 (change Hyndland), Jordanhill 9:12, Hyndland 9:14, Partick 9:16, Central 9:23.(meet in last coach).  Distance:  4.5 mls, Terrain:  Level – Tracks and Paths.
Oct 17 2023:

  Clydebank Museum and Heritage Trail – Return Clydebank – Hyndland 9:28, Anniesland, 9:19 (Change at Hyndland), Jordanhill 9:30,  Partick 9:25 (meet in last coach).  Distance:  4.1mls, Terrain:  Level, Pavements and Tow Path
Oct 03 2023:

  Cambuslang  Tollcross Park:  Distance: 4.3mls on Level, Made paths.  From Cambuslan Station the walk proceeds to the Clyde walkway. Headng west before turning up to Tollcross Park for tea and coffee.  Through the park, visiting the small animal park  and the semi refurbished gass house the walk heads off to Carntyne station for the train home.
Sep 19 2023:

   Frankfield and Hogganfield Lochs.  Return to Stepps. (change Queen St).  Hyndland 9:31, Jordanhill 9:22, Anniesland 9:19 (Springburn) or any to Hyndland for 9:31, Partick 9:33.
May 16th  2023: Water of Leith walkway (Edinburgh) and Annual Lunch. Buchanan Street Bus Station. 9am to Edinburgh, Chinese Embassy stop. (Usually stance 49).  Return by tram from Leith and thereafter the 900 bus to Glasgow.   click here (Details) for full info.
May 2nd 2023:

  Gilshochill to Sighthill and beyond. (via Glasgow Branch of F&C Canal).
April 18th 2023: Kilmahew Castle and Estate.  Return Cardross – Anniesland (To Hyndland) 9:30, Jordanhill  9:30 (To Dalmuir),  Partick 9:39, Hyndland 9:41, Dalmuir 9:49 platform 3 [The train from Partick and Hyndland is an express, not stopping at Jordanhill].   4 miles on paths and tracks. Return trains 12: 00 & 12:33 to Hyndland & Partick. Change Dalmuir for others
April 4th 2023

:

Milngavie to Summerston via Allander and Kelvin walkways –  5.2 miles on paths and tracks.
Mar 21st 2023:

  Hamilton Central- Chatelherault Circle. Return train to Hamilton  4.6miles on pavements, walkways and tracks. return trains 13, 25, 43 and 56 mins past the hour.
Mar 7th 2023: Clydebank to Bowling. From Clydebank Central station the walk headed to the Clyde, passed the Crane and along the walkway before turning inland and heading west using roads, paths, the canal path and river Clyde walkways to Bowling.
Feb 21st 2023:

  Baldernock – Bunty's Church.   Circular route from Milngavie.
Jan 31st 2023:

From Anniesland via Forth & Clyde Canal, Cairnhill, Garscube and Dawsholm Park – returning to ANNIESLAND.

Jan 17th 2023:

  Milngavie Reservoirs –    5.1 miles over paths, tracks and pavements – to and round the reservoirs.
Dec 20th 2022:

  Kelvinside Station to Stobcross Station. –.   4.1 miles following the route of the old railway line with a coffee stop at Roots and Fruits
Nov 29th 2022

:  Summerston Station to Anniesland via Halloween Pen and Stockingfield Bridge.   Anniesland (Platform 3) 9:31. Partick 9:14 and Hyndland 9:17 change Anniesland.
(Kelvindale and Anniesland – Single to Summerston, others Returns)  4.5 miles Coffee stop at Robyn's Nest
Nov 15th 2022:

  12 Clyde Bridges (Shimmy down the river) – from Dalmarnock station.  5.4 miles.
Nov 1st 2022:  Cuningar Loop

–  Train to Ruterglen.  4.5 miles on paths up through Cuningar Loop and the Commonwealth Village to the Emirate Stadium for tea/coffee.  Back to the Clyde Walkway and round to Dalmarnock Station.
Oct 18th 2022:  Houston and the River Gryfe – Jordanhill Church at 9:30 (travelling by car to Crosslee/Houston).  5.1 mls – Paths, village streets.
Oct 4th 2022:  Castle Semple Country Park – Starting at Castle Semple visitor centre – circular walk with tea/coffee at the centre at the end.

Sep 20th 2022: Drumpellier Country Park:  Return to Blairhill: Hyndland 9:31 , Anniesland 9:18 (change Hyndland), Jordanhill 9:22 (change Hyndland), Drumchapel 9:09 direct or pick up 9:31 at Hyndland to join others.  Distance 4.1 miles – Mainly level.  Coffee in visitor centre.  Return trains – 11, 22, 41 and 52 past the hour.
All Walks up to May 2022 – Click (

Here

)