Coming Events 2020
TBA
Past Events 2020
Monday 2nd March – The Threepenny Opera by Kurt Weill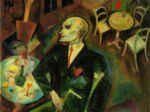 The event at the Royal Conservatoire of Scotland, The Threepenny Opera by Kurt Weill with libretto by Berthold Brecht first performed one 1928, was attended by a Probus party of 20.  It was preceded by a wine reception and an insightful talk by Head of Opera and performance conductor Philip
White, commenting on the history of the original cast and the timeless modernity of the music. Gordon Barclay, instigator of the visit, said that all had enjoyed it and "we'll be back".
Thursday 30th January – Visit to Tennents Brewery
A party of 12 Probus members gathered at Anniesland and made their way by train to Tennents Brewery in Duke Street.
The visitor reception area was well laid out and filled with lots of information and artefacts on the history of the company. There was plenty of time to peruse it all before the official tour started. It also contained a mass of promotional Tennents related products, from bottles and cans of beer to hoodies.
The party was taken through the various departments starting with the ingredients and their processing hall. As is usual theses days the whole operation was controlled by one man and a bank of screens.
The immensity of the operation was evident by the size of the large tanks filled to the brim with beer ready to be casked and canned.
The filling area was most impressive and again fully automated, capable of finishing tens of thousands of product per day.
The finale was a well received pint of lager in a customised bar. This was followed by a tasting session of different beers that Tennents produce.
No one rushed off.  It was an excellent end to an enjoyable day.
Thanks once again to Gordon Barclay for organising the outing.