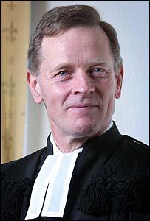 Very Reverend John Miller : Christmas Address
John's address hit the spot for our Christmas Address, a good compensation for the Christmas Lunch which had to be abandoned because of the pandemic.  John made clear that he would have preferred having the lunch as originally planned.  Wouldn't we all, we thought, as the Christmas Lunch is one of Probus annual highlights!
This led to John observing that Christmas is only one of the ritual events which call on his time.  During his ministry in Castlemilk he could officiate at as many as a 100 baptisms a year.  Experience revealed that no more than 12 baptisms were manageable in any one service.  In addition, he had his share of funeral services to conduct.  This has exposed John to a rich tapestry of human nature and he shared many examples with us.  Mostly humorous but sometimes insightful and other times very moving.
One always has to be careful with names at baptisms.  He told of a minister who asked the parents what the baby's name was.  'Spindonna' was the reply.  The Minister announced the babe's name to the congregation, 'Spindonna!'  'No, no,' said the father, 'her name's Angela.  It's pinned on her!'  John remembered another occasion when, after a successful cup final, the baby's name was announced as Colin Stein Murphy to cheers from the congregation.  There was no doubting the parents were keen football fans!
During his ministry in Castlemilk John got to know local worthies with a Trade Union background and of Communist persuasion.  One of them knowing she was about to pass on approached John and asked if he would take her funeral service.  She impressed on John that she was a 'Protestant atheist'!
At the other end of the spectrum John found himself officiating at the Queen Mother's funeral.  Here a rehearsal had to take place at Westminster Abbey.  Eight huge Guardsmen had to practice carrying a coffin filled with stones to replicate the weight of the lead lined coffin.  However, to the dismay of the funeral arrangers, the rehearsal revealed that the funeral carriage couldn't negotiate the roundabout just before the Abbey.  Nonetheless, by the time the funeral was taking place the following day, John discovered the roundabout had been removed and replaced with smooth tarmac!  A confirmation of the old adage, where there is a will, there is a way!
As another side to John's ministry in Castlemilk, John admitted to having his life threatened twice.  On one occasion when answering his door, a man burst through and held him against the wall and put a gun to his neck.  We never learned why but the thought that crossed John's mind was, 'well, I won't need to do that tax return now!'  The thought of his wife and family just through the wall didn't cross his mind!  John had no idea why such a trivial thought crossed his mind but a very human one in the face of danger.
However, John's most fascinating story was of his time in Zimbabwe.  Mary, his wife, was working with children with Aids over a five year period.  While John was there he was invited to participate in two of the local churches, one black and one white.  During his involvement with the black church, he learned that all families need a 'Sahwirah' or 'trusted friend' when a member of the family died.  John had the privilege of being invited to be Sahwirah during his time in Zimbabwe.  The Sahwirah had a duty of brightening up the occasion.  This was clearly a challenging responsibility because it required the Sahwirah to address each member of the family reminding them of their misdeeds against the deceased.  This ritual, once done, meant that the families couldn't mention the misdeeds again.  They were buried with the deceased.  John thought that this was a great custom as it prevented lasting family feuds.  As he said wistfully, not a custom available to us.
John concluded his address with a toast wishing everyone comfort and joy.  The Zoom session was then broken into breakout rooms where the toasting of Christmas continued.  The breakout rooms are still an experimental feature of our Zoom sessions.  However, they did provide a great opportunity for members and wives to chat and exchange good wishes for the festive season.
This blog contains only a few of John's experiences which had us laughing, sighing and gasping.  We were honoured that John shared them with us and helped make our first virtual Christmas event most memorable.  Stewart Roy summed up John's address succinctly by saying it brought hope, peace, joy and love at a time when it was needed.  A reflection of the impact of the current pandemic superimposed on the festive season.  That Stewart gave the Vote of Thanks to John turned out to have resonances unknown.  Later John shared the fact that 70 years ago he had been at school in Kilmarnock with Stewart's brother.  How's that for a 'small world'?