Professor Dawn Skelton : Sitting – is it really that bad for my health?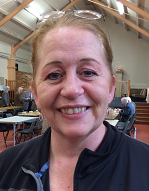 Professor Skelton gave us an entertaining and 'active' talk.  Sitting around is not good for us and evidence was provided to prove it!  While most members are aware of the subject, it was good to hear the statistics and get advice on some simple exercises which are key to strength and balance.  The priority should be the 'Life in our years'.
The stress of Prof Skelton's talk was on the benefits of activity and the avoidance of a sedentary life style.  Surveys have shown that we tend to sit 8 to 10 hours a day.  Her message is that maintaining strength and balance is essential for independent living.  The body starts aging between 20 and 25 and thereafter functional ability deteriorates at 1 to 2% per annum – including strength, bone density and balance – (some mental arithmetic called for here! How long have we got?!!).
A study of Prof Skelton's revealed that most healthy people have the ability to stand up from a chair (appropriately the height of a toilet seat!) without using arms up to the age of 75. Given that the proof is in the pudding members happily stood up and down a few times and also tested their balance by standing on one leg.  Closing one's eyes was a revelation as our sense of balance reduces with age.  A crucial factor to standing up is the condition of our ankle muscles.  Intriguingly studies have shown that women's ankle strength is less than men.
There are challenges to be addressed.  General risk averseness, especially fear of falling, has to be overcome.  Prof Skelton observed to the widely traveled members that they will have noted more potholes in the roads and pavements in Greece and Spain.  Because people have to be wary and walk round them, they don't fall as often!!  Food for thought here!
On a sobering front Prof Skelton highlighted the dangers of hospital admissions – lack of activity harms older people!  Research has shown that 1 week of bed rest reduces leg strength by 20%.  It also reduces spinal bone mineral density by 1%.  Studies have also shown that hospitals generally don't have time to address patients' activity needs.
Prof Skelton's key message is that it's never to late to act.  There are two simple things we can all do to help ourselves.  Firstly to stand on one leg for one minute 3 times a day. And, secondly, reduce time spent sitting and when sitting, break up periods of sitting with sit stands (x10) each hour.  Going for walks is good too.  If you are more adventurous Home Exercise Booklets can be found online (www.profound.eu.com).  Advice on falls and self management can also be found at https://fallsassistant.org.uk.
Dermot Kennedy brought this excellent talk to a very witty end by asking members to break with tradition and give Prof Skelton a standing ovation!  This members did with humour and great pleasure.