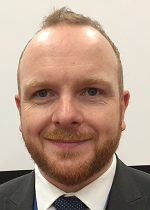 Ronald Leitch : General Manager Operations at Glasgow Airport
Ronald's talk was wide ranging.  He talked about many things including adapting the airport terminal and airside facilities to take the massive A380 Airbus, a new business park to accommodate internationally focused high tech companies, modernising the airport's flightpath and sustainability in aviation (with its controversies due to emissions and air traffic growth). Unfortunately, it's not possible to do justice in a blog of this nature to them all.
Glasgow Airport is the 'Gateway to Scotland', a marketing theme of AGS Airports, the owners.  A fair description as demonstrated by Ronald pointing to international events in the recent past attracting people to Scotland such as a number of UEFA Cup Competitions, the Commonwealth Games and major Music Events at the Hydro.
Glasgow Airport has around 5000 staff employed on site however it supports about 30,000 jobs in total.  Ronald says the airport is like a small city.  Many organisations and companies work there.  Companies such as Swissport, who handle the check-in counters and many of the behind scenes activities, Air Traffic Control, National Air Transport Services, the Border Force and the Police.  The Airport is estimated to generate a significant £1.7 billion to the local economy.  Many airlines use the airport but the three biggest carriers are easyJet (25%), British Airways (17%) and Jet2 (13%).  Emirates are one of the most important long haul 'Hub Carriers' providing links to the Middle East and beyond through its double daily service.
Ronald's take on security started with a photograph of a crowd of Rangers football supporters swarming an aircraft at Renfrew back in 1962!  Times have changed!  More currently explosive devices and non-metallic items are the security concern.  Gradual improvements in detection techniques resulted from bizarre weapon designs such as explosive devices in shoes and underpants, fortunately ineffective, albeit injuring the carriers!  Now 3D X-Ray Scanners are being introduced to increase safety and security.  In time Ronald believes that some of the current technology will be overtaken by intelligence led systems.
Ronald was part of the team working at Glasgow in 2007 following the car bombing attack at the airport.  This event proved to have worldwide consequences.  In short order airports around the world had to introduce security measures such as bollards to prevent the use of vehicles as weapons against terminal buildings.
In the Q&A session, a question came up about cyber security and drones.  It was sobering to hear that the Airport internet systems receive thousands of cyber attacks daily.  Most come from many international countries.  Fortunately, there are defence measures in place.  However, Ronald made clear that there is still a need for constant vigilance.
Regarding drones, Ronald provided a wider context.  They are here to stay because they have valuable uses.  Within aviation they are now proving very useful; eg for aircraft inspection without the need for expensive scaffolding and for airport runway inspections in a quicker and more effective way than manual inspections and provide better records over time.  In terms of malicious use, control can be provided within the drone's software.  All drones sold through conventional sources must now have a 'virtual geo fence' built into the software so that they won't operate within 5 kilometres of an airport.  However, the issue of the malicious use of drones still needs to be resolved.  There are military systems which can take them out but there remain issues with respect to their impact on instrument landing systems and communications in the vicinity of airports.  So watch this space!
Ronald's talk provided a fascinating insight into modern aviation.  If time had permitted, members would have enjoyed learning more!  Thanks, Ronald.