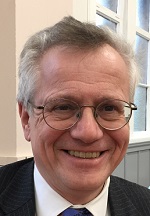 Prof Murray Pittock
The theme of Professor Pittock's talk is derived from research that he and his team are undertaking at Glasgow University on Robert Burn's continuing contribution to the Scottish Economy despite his death more than three centuries ago (See Weblink).  https://www.bbc.co.uk/news/uk-scotland-44106983
Professor Murray Pittock is Bradley Professor for Literature and Pro Vice-Principal of Glasgow University.  He has worked at an impressive number of Universities including Manchester (where he was the first professor of Scottish literature at an English university), Edinburgh, Oxford and Aberdeen.  He is also a Visiting Professor at New York, Charles University Prague, Trinity College Dublin, Auburn (US), Notre Dame (US), University of Southern California & Yale.
Allied to his role in Academia, Murray is a Fellow of a wide range of respected societies including the Royal Society of Edinburgh, the English Association, the Royal Historical Society, the Royal Society of Arts and the Society of Antiquaries of Scotland among other bodies, not to mention an honorary Fellow of the Association for Scottish Literary Studies.
Murray is a prolific author of internationally acclaimed books on English, History, Irish Studies, theology and politics.  His books are even on the House of Commons Reading List!  As a communicator of his subject, Murray has frequently appeared in the UK and overseas media in over 50 countries to comment on history, literature and current affairs.  His knowledge and enthusiasm for literature and history has drawn him into co-curating a number of cultural exhibitions.
In short, Murray's talk promises to provide a new perspective into Scotland's bard, Robert Burns.