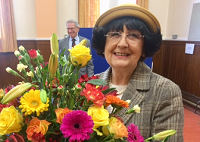 Anita Manning : West End Antiques
Unusually the hall had a slightly festive atmosphere before Anita Manning, Great Western Auctions, started her talk. A reflection, perhaps, of the number of members' wives who came along to hear our local BBC expert on antiques known to us through programmes like Flog it, Bargain Hunt and Antique Road Trip. A portent for an enjoyable talk and so it proved.
Anita explained that her entry to auctioneering had been a complete fluke brought about by her daughter Lala (then aged 18). Her daughter seeking to build a career after school had developed a business plan but relied on her mother to make it happen! Anita was left with the challenge of raising the £4,000 required to set the plan in motion. Her bank manager, in the days when there were local bank managers, turned Anita down given her lack of experience. Fortunately Anita had a wealthy benefactor who lent her the money without any strings. This led to her setting up her first auction room off Otago Street, Kelvinbridge. And the rest is history.
Anita was a shrewd observer. At that time the auction trade was male dominated. It was also inward looking, most of the buyers were people in the trade with few private buyers involved. Anita recognised auctions offer fantastic theatre and deliberately focused her auctions on private sales which attract higher prices. To achieve this transformation Anita made sure that her auction room was attractive and held the auctions on Saturdays to suit private buyers. And because the purchasers appreciate a 'story' she always includes some history in the sale. This was a breakthrough in auctioneering in 1989 and delivered by Scotland's first woman auctioneer. Anita's confidence was boosted, of course, by her £300 suit bought specially for her first sale. A never never purchase to minimize the damage to her £4,000 stake!
Auction day is only the tip of the ice berg. There is much preparation before hand – setting up the objects, cataloguing, photographing, a viewing day, etc. So much has already happened beforehand. Auctioneering is not obviously high tech. However, the internet is key to accessing a world wide market for online sales. Anita amazed the audience by saying that her quarterly high end auctions can attract as many as 130,000 potential buyers!
One old lady's estate included an old military watch inherited from her father. Research found that it was one of only six hundred waterproof watches made for German frogmen. Immediately it's estimated value was in the order of £20,000 to £30,000. It proved to be an exciting sale as it had attracted the interest of a racing driver and a Swiss bridegroom putting the 'I do' moment briefly on hold! The clients' eyes grew rounder and rounder during the back and forth bids and Anita swears they stopped breathing when the watch reached the top price of £52,000 as the hammer went down. Wow!.
In closing, Anita reflected 'I still sometimes wonder what I'll be when I grow up?' Members and guests clearly thought she was already doing a good job. The applause was spontaneous and enthusiastic from the Kelvin Probus antiques.