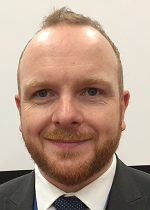 Ronald is General Manager Operations at Glasgow Airport, where he leads Engineering, Airside Operations, Rescue & Fire Services, Airport Security and Terminal Operations.    In his career he has held a number of senior operational roles at Glasgow Airport and also Operations Director at Aberdeen Airport.
Ronald returned to Glasgow Airport in 2014 to lead the Capital and Engineering functions, which in his tenure delivered over £70m of investment projects including the replacement of both terminal baggage systems to meet EU Standard 3 compliance.  In 2018, Ronald became Head of Aerodrome Operations where he moved from leading the design & construction of the airport readiness for A380 operations at Glasgow, an aviation first for Scotland to operational delivery.  His wealth of operational knowledge and experience has been tested in various crisis situations including the 2007 Terrorist Attack at Glasgow Airport, Volcanic Ash cloud airspace closure and also the Beast from the East.
Appointed to General Manager in October 2019 with over 19 years of aviation experience, Ronald has a great appreciation for dealing with the challenges that the world of aviation encounters and enjoys working on innovative methods to improve the customer experience through airports and learning through continuous improvement how to support airlines and partners who are part of the airport operation.