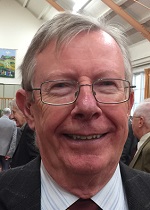 Message from the President.
Dear Fellow Member,
As my former Chinese Colleagues would have put it, we live in 'interesting times'. Summer 2019 could be described as the 'Summer of Discontent'.  Demonstrations out in Hong Kong, a Conservative Party Leadership Contest at home, a malicious leak of diplomatic emails from our US Ambassador causing US Presidential 'outrage', ongoing troubles in the Middle East and, at the time of writing, August is still to come!!  By the time you receive this newsletter we will have a new Prime Minister and possibly have been told there will soon be a General Election!  Hey ho!
In the news recently, the excessive number of Scots drug related deaths has become a high profile matter.  An issue which had been brought to our attention last year by Jim Duffy, former policeman and a member of Law Enforcement Against Prohibition (LEAP), a US based advocacy group seeking to turn drug problems into a public health rather than a criminal matter.  He presented a powerful case for reform, regulation and the control of drugs.  Nowhere is this more evident in the increased number of drug related deaths which are now second highest in Europe.  Neil Greig of IAM Smart, who also spoke to the Club on driving and roads matters last year, was interviewed on TV recently with respect to the number of drivers seeking to obtain driving licences fraudulently.  He says 'It's cheaper to pay for a driving instructor and get a driving licence legally'.  A demonstration that the Probus programme of speakers keeps members in touch with what is going on in the world.
The Committee want to maintain this track record.  So this Annual Newsletter is separately accompanied by a Questionnaire to find out members' views on 'Life, the Universe and Everything'.  Membership is in decline, not unique to Kelvin Probus Club, of course, but the Committee are keen to do whatever is possible to maintain the relevance and vitality of the Club for members both current and future.  With your feedback we hope to find ways of future proofing the Club and keep you and future members informed and entertained!
I look forward to seeing you on Tuesday 10th September,
John Walls, President