Nick Kuenssberg : J &  P Coats – The Rise & Fall and Rise Again
Nick enthralled his audience with his knowledge of J & P Coats which rose to become the first industrial multi-national company in the world and the biggest company in the UK and Europe, not to mention the third biggest in the world by the end of the 19th Century, exceeded only by Standard Oil (Rockefeller) and Carnegie's US Steel Company.  Quite an achievement for manufacturing humble thread – a 6 chord two by three ply cotton thread wound on wooden spools two hundred yards long!    Nick's tale was an insider story; if his body was a stick of rock, it would have J & P Coats running through it.  At the start of his career, when facing a choice of employers, Nick was advised to go with Coats and it is clear that he has never regretted it.  Easy to understand as he had a challenging and varied career via Germany, Peru, Chile and Italy, before becoming a overseas finance director at head office in Glasgow and ultimately group director chairing three divisions.
James Coats founded his thread business in 1824, having been born into a family of weavers and introduced his two sons James & Peter into the company, hence J. & P. Coats.  He began thread making in Ferguslie, an industry triggered earlier by the Napoleonic War which stopped the supply of silk thread to Britain.  His innovative and energetic sons took this thread making to new heights, not only in Britain but overseas, especially the US in the early years before spreading globally.  The Clark family did the same at the other end of the town at Anchor. This growth was greatly aided by the invention of the sewing machine in the 1860s which was the foundation for the ready made clothing industry, a reminder that the growth of Coats and Clarks manufacturing and trading rode on the back of the Industrial Revolution.  By the 1890s the US factories output matched that of Paisley and the company had built factories or trading centres as far afield as Russia, Hungary, Brazil and Japan.  Around this time Coats merged with their previously bitter Paisley rivals J & J Clark and floated on the London Stock Exchange, creating no less than 19 millionaires – a remarkable achievement!  The funds raised on the Stock Exchange helped to accelerate the company's growth and overseas acquisitions, a development masterminded by the first non-family director in Ernst Otto Phillipi, a German, who drove this strategic expansion and detailed sales control.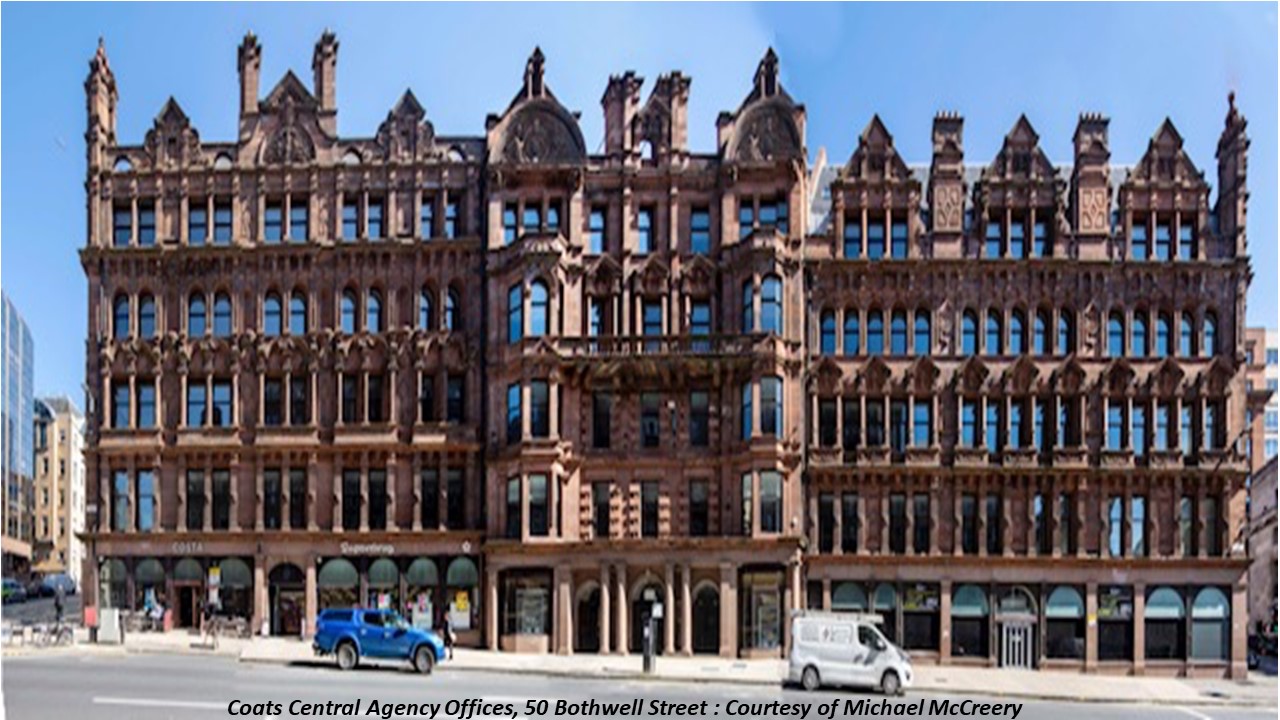 At the end of the 19th Century the merged company was still very much a family business, both the Coats and the Clark families having had many sons who entered the family business who proved to be equally energetic and innovative.  Nick observed that Coats' success was due in part to the sophisticated board and committee management structure based on finance.  Such was the scale of the operation that Coats set up their Central Agency Offices in Glasgow (see photo) which managed 150 depots worldwide in 30 different currencies.  Coats were adept at controlling trade marks and had a widely respected and effective marketing strategy geared to achieving significant market share.  Its reputation was such that Lord Leverhulme copied the business model.  Another great Coats' strength was their system for buying cotton, this being centralised with an itinerant team based in in Paisley.  They checked every bale for quality, established reliable supply lines and ensured that their suppliers understood the demands of Coats' requirements. In parallel there were peripatetic sales and manufacturing directors and advisers on group best practice together with a standard cost system serving up to 40 countries where Coats had manufacturing operations.
One other factor in Coats' success is clearly enlightened management.  From the beginning they provided excellent working conditions for their workforce.  In addition, during difficult times they would provide community support supplying coal, soup kitchens, school books, etc. In the 1920s they introduced graduate management recruitment and traineeships and an equitable pension scheme. The face of Paisley continues to enjoy many Coats' legacies such as the Town Hall, the observatory, Fountain Gardens and the Thomas Coats' Memorial Church as well as a 60 year long restoration of Paisley Abbey.  Further evidence of enlightened management was the fact that Coats' overseas factories were managed in the local language, a far cry from the traditional British colonial or American approach and, as it proved, an opportunity for Nick to improve his multi-lingual talents!  No surprise then, to learn that Coats overseas establishments enjoyed a lively social life in many remote corners of the world, or as Nick put it, the original 'Partygate' world!
Given the global spread of Coats, it was inevitably affected by world events.  WW1 saw the end of Coats in Russia, the Depression unsurprisingly affected performance and WW2 meant the loss of China and Eastern Europe.  Nonetheless, in post war Europe Coats recovered ownership of both Germany and Italy, began to invest in India and Asia and expanded in South America.  The emergence of international trade pacts such as EFTA and the Andean Pact tended to undermine the protected textile markets in which Coats operated but it was necessary for them to adjust to this new world.   Coats' multinational structure made this possible but it was difficult and costly.  In parallel Coats engaged in a number of acquisitions in textile-related companies in the UK both to diversify the revenues and to respond to a UK government tax change in the introduction of advanced corporation tax which disadvantaged overseas profits.  In addition, there was a national move to corporate giantism driven by stock exchange sentiment which affected many companies such as Courtaulds and British Leyland.
The growth of the international business with local manufacture and the move of the UK textile business to the Far East both created tensions between Coats' Paisley and Glasgow head offices which ultimately resulted in the closure of Ferguslie (1983) and Anchor Mills (1993). This in turn, exacerbated by the low capital markets