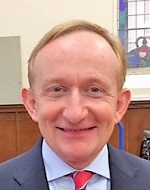 Dr Mike Cantlay, OBE : Scottish Natural Heritage
Dr Mike Cantlay, in a very humorous start thanked the Club for providing a little step, for little people, such as himself in the Gents! Then he moved on to describe himself as the Quango Doctor (a job for which there is no queue!). A handle which is easy to understand from all the Quango positions he has held including Chairs of the Highlands & Islands Airports (HIAL), Visit Scotland, Scottish Enterprise Forth Valley not to mention still occupying the Chairs of the Scottish Funding Council and Scottish Natural Heritage.
Mike's beginnings served him well. He grew up in Callander where 'you get soaked in things'. Mike was at university when his father had a heart attack. This meant he had to return and help in his father's business. Nonetheless Mike continued his studies and completed his degree followed by an MBA. While running the business he became involved in the Tourist Board, Scottish Enterprise Board and the Inaugural stages of the Loch Lomond and Trossachs National Park. A sound basis for becoming a Quango Doctor!
While Mike ran us through a number of his quango experiences, his primary focus was on Scottish Natural Heritage (SNH). He observed that SNH had been operating for 25 years as had the Scottish Funding Council (SFC). Mike contrasted the number of staff in these organisations who had worked from the beginning. In SFC it was three and in the SNH it was 79. He suggested this 'longevity' had contributed to the SNH losing its sight of the 'customer'; ie the Scottish public. He also saw the decrease in annual budget from £72m to £46m a reflection of how the Scottish Government rated the value of SNH notwithstanding the impact of UK government austerity measures. This suggested to him that, although many in SNH were aware of change, especially climate change since they had been established, many had not. His key point being that nature had already changed with global warming and this had to be embraced. It is time for strategies to catch up.
Mike's first task with SNH was to have a plan. Plans help set the direction of travel and marshal resources. Mike wanted to establish what SNH's real role is. Consultation with the SNH team quickly revealed that its real role is 'nature' rather than 'heritage'. He is keen that the public recognize that SNH's role is to connect people with nature in Scotland. This has resulted in a quick but very symbolic change to the address of SNH's website which is now www.nature.scot. In addition, as it is essential that SNH staff maintain contact with their customers, Mike wants it to learn from the National Parks where public engagement is self evident.
In terms of 'institutional' promotion, the Parks' Staff are encouraged to do 'crazy' photo opportunities like mountain biking on the hill tops to publicise the Parks and communing with nature. (And, it's cheaper than using PR Companies!) Moreover, staff vocabulary is being encouraged to shift from opaque scientifically accurate terminology. Who is familiar with terms such as 'bryophyte' and 'pollinators'? How about talking about moss and bees! In short, Mike seeks to make staff aware that people lose interest quickly if the language isn't right. Engaging with more people is key to Mike's long term plan. He is very much aware that many Scots have lost touch with their own country in their rush to the sun. Behind this whole attitude is raising SNH's profile. It is time that SNH maintains its prominence and relevance to hold its place in the government's priorities.
Mike stressed the interdependencies in the countryside. The users of the countryside whether walker, hiker or biker benefit from nature and are healthier for it. Catering for this demand whether trails, cycleways or recreation areas and their habitats requires investment. In turn this investment can be directed to make nature more resilient to improve water courses to cope with increased rainfall through climate change, safeguarding habitats in the face of global warming as well as locating bridges in places less likely to be affected by flash floods.
The SNH does not deliver projects in isolation. It works in partnership with many other public sector bodies both government and local authority. It also works in partnership with landowners and land managers and increasingly with communities and special interest groups. Mike explained that the SNH takes its lead from the outcomes contained in the government's National Performance Framework. Here key outcomes relevant to SNH are Health and Place. It is around these two outcomes that SNH crafts its strategies. As Mike sees it, the SNH is a leader within the government on nature and people's relationship with it.
Mike believes if John Muir was alive today one of his key messages would be 'you have to deal with Climate Change'. However, there are many passionate people in conservation haven't yet tuned into the fact that nature has already moved on. Despite some animals and birds quite liking change, the poor old Capercaillie hasn't taken kindly to it, an unresolved issue. However, the SNH has to address these dramatic changes in their strategies. As Mike put it, if the warmer seas make the fish move then the seabirds have to follow or die. This is equally true on land-wise and a new direction of strategies have to be developed.
It is clear that Mike brings a lot of energy and enthusiasm to whatever he does. His early introduction to business has clearly been an asset giving him the ability to size things up quickly and be hard headed in assessing what needs to be done. This is implicit in his unofficial title 'Quango Doctor'. In his role as the Chair of SNH Mike is keen to see more investment in Scotland's natural capital and that it be properly managed. His aim is to improve the country's prosperity and the people's well-being. In his new role he seeks to inspire and challenge SNH to do better – a worthy endeavour.