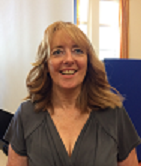 Margaret Houston is Principal Librarian (Reader Development and Literacy ) with Glasgow Libraries .
She is responsible for organising a year round programme of book related events, to encourage reading for pleasure and library use for all Glasgow's citizens.
She is the programmer for 'Wee Write' : Glasgow's Book Festival for Children and Young People.
Margaret will be speaking about the Wee Write festival and its parent festival 'Aye Write!', which celebrate the best in local, national and international literature and which supports opportunities for literacy development across all life stages and individual circumstances.
She will speak about *'Home Ground' this year's festival's City Read , share some key highlights about Aye Write/Wee Write and look forward to the exciting calendar of reading events and projects planned in Glasgow libraries throughout 2017.