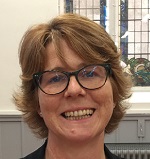 Kirsty Craig has worked at the University for the past 19 years. Prior to this as Events Manager at Glasgow City Council, she organised a programme of events, including the Great Scottish Run, World Pipe Band Championships and Gymnastics Internationals. She then led on a programme of events, Scotland wide, to mark the beginning of the new millennium.
Following this Kirsty came to the University of Glasgow, to plan a programme of celebration for the University's 550th anniversary.  Within two years Kirsty was organising fundraising events, including Munro Challenge, where she worked with Professor Robin Leake and colleagues, to put as many staff and students from the University on top of as many Munros as possible in a weekend.  In so doing, raising tens of thousands of pounds for medical research at the University of Glasgow.
Kirsty moved into a fundraising focused role in 2005, she led the £10m cancer research campaign to build the Wolfson Wohl Cancer Research Centre at the University Garscube estate which opened in 2014.  Kirsty now leads a team whose role it is to raise funds for the University's priority research and teaching projects, at the forefront of which is the redevelopment of the Gilmorehill campus which you will hear about on Tuesday.