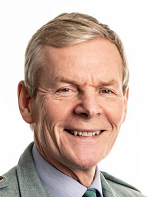 John left the Royal Navy 8 years ago and runs his own Tourist Guiding company under the name of Exclusive Scottish Visits. He travels all over Scotland with guests from all over the world, when Covid permits, and has become an ambassador for Scotland over the last 8 years. He is a qualified Blue Badge Guide. During the lock down, John has been producing Podcasts and his recent venture is to conduct virtual tours, the first of which is around the Trossachs.
In his last job in the Royal Navy, John worked at a senior level in the Maritime Operations Centre, Northwood, which is responsible for the UK's Joint Military Operations. Before that he was the Spokesman for the European Union's anti-Piracy force off Somalia.
In the recent past he has played a major role at Faslane, the RN's prime submarine base, contributing to the logistics of managing the submarine fleet, it's supporting surface ships and the shore base of 7,000 personnel.  He has also had the privilege to work as the personal Staff Officer for two Admirals, a job which required significant diplomatic skills and involved major liaison responsibilities with both civilian and military agencies.
John is also active in his community.  He was Secretary and trustee to the Gartocharn Village Committee which successfully raised a £I million to build a new village Hall.  This was opened by Princess Anne. He is also a member of
The Royal Scots Club Edinburgh
The Institute of Directors; and a
Fellow of Chartered Management Institute
In his spare time John enjoys golf, hill walking, sailing, ballroom and Scottish Country dancing and Scottish History.