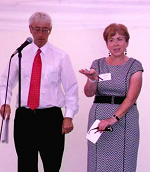 The Grand Central Hotel
14th November, 2017
Jill Scott and Bill Greig
Our vice-chairman, Angus Murchison, introduced a joint presentation by Jill Scott and Bill Greig, former colleagues on the Sunday Post. With the support of their former employer, Jill and Bill have researched many historical sources relating to the Central Hotel, especially records from the Herald, the Glasgow Chamber of Commerce and the Caledonian Railway Association, whose huge archive is now held in Glasgow University.
These records reveal the great influence of the Caledonian Railway Company, established in the 1840's. That development led to the building of Central Station in 1879 and, by natural progression, to the opening of Central Hotel in 1883. The glory days of the hotel persisted for the best part of the following century, despite the extinction of the Caledonian Railway after merger in 1923 with London, Midland and Scottish Railways (LMS). A gradual decline set in from the late 1980's, leading to administration in 2009. Following a relaunch and the investment of £80m the building now bears the title of 'The Grand Central Hotel.'
In early days the hotel had 390 bedrooms and a huge staff. The corridors and staircases were built on a magnificent scale (perhaps to accommodate the sweep of female dress in Victorian times). Early in its history, the Caledonian Railway Company developed some 'packages' for holiday- makers who might be going 'doon the water' perhaps to Wemyss Bay or Rothesay, rounding off the day with a bath and a fire in a room of the Central Hotel. Glasgow was an attractive destination while shipbuilding was at its height and also when the Empire Exhibition drew huge crowds to Glasgow. The city lost some of its drawing power in the post-war period but the Central Hotel retained a secure clientele among twentieth century celebrities such as Churchill and John Logie Baird, besides many show business 'aristocrats'. Most of these performed in Glasgow's surviving theatres and music halls such as the Metropole, the Empire and the Alhambra. The hotel itself provided a kind of stage for popular extroverts – Caruso arrived on his own train, Roy Rogers rode Trigger up the staircase. Ken Dodd, Sophy Tucker, Danny Kaye, Gene Kelly and Mae West were only a few of the visiting entertainers. The management still had its standards, however, refusing entry to Led Zeppelin in 1972 for not wearing ties.
The Central Hotel preserved its elite status into the 1980's, particularly for the Malmaison's high standards of cuisine. The fabric was understandably difficult to maintain, however, and several floors were closed. Nevertheless the challenge has now been taken up. This is a Grand Hotel once again and a full account of its past and present may be read in a well illustrated book published by Waverley press – 'Glasgow's Grand Central Hotel' – Bill Hicks and Jill Scott.