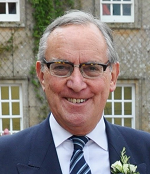 George English : Family History
George quickly established his audience's origins as any good genealogist should do.  Unsurprisingly he found that the majority of members were of West of Scotland born but others came from further afield in Scotland, Ireland, England and beyond.
We learned George relied on factors such as status (eg nobility, land owners, professions, trades, etc), records (eg Registers, Census, Parish Records, Passenger Lists, Workhouses, etc), names ( less common ones help) and continuity; ie whether people stayed in the same area or had migrated.
It turns out that surnames are a post Norman Conquest construct.  There was no need in earlier times.  These surnames were often tied to people's locality or nationality as George's surname attests!  Often names are patronymic – Mac being the best known Scots term but we have plenty of 'sons' from the Scandinavians and 'O's from the Irish.  And, of course, many relate to occupations such Smith, Carpenter and Fletcher.
George used a few examples from his research material of Ayrshire family trees to give insights to his techniques.  Through things like the census and death certificates he was able to establish dwelling place, relationships, migrations and skills.  In a Gebbie line, he found movements between Loudon, Darvel and Kilmarnock.  It became clear their ancestors were in the weaving trade.  In another family tree, he turned up a 'rogue' relative, Annie Riddex, born in Pennsylvania.  It was later revealed she had Ayrshire parents and had returned to her roots!
As George continued his discourse many other less common, but useful, sources came to light.  These included maps, Clan records, Regimental Records, gravestones, war memorials, mining records (especially in fatal accidents) not to mention newspapers. Indeed George had had the fortunate experience of finding a reference in a 19th Century Herald to a William Brunton, who he was researching, as Rector of Paisley Grammar School.  This immediately led to a treasure trove of information from the school records.  In the case of Ireland he has often been helped by the Griffiths Valuation (carried out between 1848 and 1864 to determine liability to pay the Poor rate).  It provides detailed records and maps about where people lived and the property they possessed.
It became easy to understand how much history George absorbed from genealogical investigations – of the Stewart Protestant Plantation in Ireland in 1606, the Highland Clearances (1760 – 1850 approx) the Irish Famine (1845 – 1852) not to mention the Industrial Revolution (1760 – 1840) which caused the dramatic growth of cities such as Glasgow.
Members enjoyed this very informative talk on family history from George.   NB George indicated a willingness to be contacted by any member if they wished a pointer in researching their own roots.