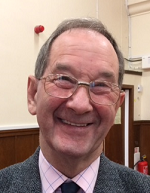 Dr. Peter T Hughes OBE, FREng, FRSE
has had a remarkably high profile industrial career in engineering and steel and was awarded an OBE for his services to the UK Steel Industry in 1993. Engineering is still very much in his blood and he is currently Chairman of the Primary Engineer Programmes Advisory Board taking engineering to Primary Schools throughout the UK. Prior to this he spent 14 years as Chief Executive of Scottish Engineering Employers' Association and prior to that a similar period as Chief Executive of a steel foundry in Fife. He holds the MBA from Dundee University and Diploma in Management Studies from Strathclyde
He is a keen sportsman playing tennis, golf and curling. He is also a keen musician and a very popular After Dinner Speaker with a particular interest in Scotland's National Bard, Robert Burns. In addition to having been President in the year to 2016 of the Robert Burns World Federation he is a member of the Allanton Jolly Beggars Burns Club and a former Director of the Bridgeton Burns Club. He has delivered Immortal Memories in Australia, South Africa, the United States and at venues across the UK.