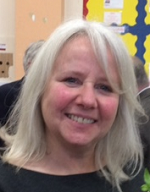 Christine graduated from the University of Stirling in 1985  with a BSc (Hons) First Class in Biology. She then studied for her PhD in the Department of Zoology, University of Glasgow from 1985-88. Her project researched  the neurophysiological and behavioural response of the Norway lobster to acoustic stimuli. She was then awarded a competitive postdoctoral research fellowship by the Multiple Sclerosis Society for Scotland to work with Professor Adam Curtis in the Cell Biology Department at the University of Glasgow on the role of MHC molecules in multiple sclerosis from 1988-91.
She entered the undergraduate dental course at the University of Glasgow as a mature student in 1991 and graduated with BDS Honours in 1996. She then worked for two years in Glasgow Dental Hospital as a junior and then senior house officer, before spending a further 4 years as an SHO in Oral and Maxillofacial Surgery at the Victoria Infirmary and  Monklands Hospital in  Lanarkshire. In 1999 she obtained her FDS from the Royal College of Physicians and Surgeons of Glasgow.
From 2002-2004 she worked as a Staff Grade in the Department of Oral Surgery at Glasgow Dental Hospital and School.
In 2004 she was appointed as Clinical Lecturer in Oral Surgery/ Honorary Specialist Registrar in Academic Oral and Maxillofacial Surgery based in Glasgow Dental School and Aberdeen Royal Infirmary.
She was awarded a Postgraduate Certificate in Academic Practice by Glasgow University in 2007 and is a Fellow of the Higher Education Academy. She was awzrded  her Intercollegiate Specialty Fellowship Examination (FDS (OS)) by the Royal College of Physicians and Surgeons in Glasgow in November 2007. She completed her higher specialist training in 2008 and took up her Senior Lecturer/ Honorary Consultant post at the University of Glasgow/NHS GGC in the same year. She is currently the Lead Clinician for Oral Surgery.
Christine is Head of BDS Admissions at the University of Glasgow, a post she has held since 2008. She is currently Director of Dental Examinations at RCPSG.  She is the RCPSG representative on the Specialist Advisory Committee in Oral Surgery and the Scottish Training Programme Director for Oral Surgery.
In 2013 Christine was awarded an Honorary Membership of the Faculty of Public Health for her work in violence prevention.
She is an Honorary Senior Research Fellow at the University of St Andrews