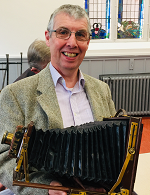 Old Glasgow Through the Lens
This was a feel good talk. Douglas showed us images of places and people which are part of members' life time memories. Members audibly reacted to photos of Dr David Livingstone and Charles Rennie Macintosh. These iconic photos have been familiar to members for their lifetime. He even had a photo of Queen Victoria at the opening of the Glasgow Water Works! (1859). Douglas Annan's ancestors have left us a vivid pictorial history stretching back well into the 19th Century.
The story starts with Douglas's great, great grandfather Thomas Annan. Although he started as a time served lithographer and engraver, Annan set up his photography business in Glasgow in 1855. This is a mere fifteen years after Henry Fox Talbot first pioneered photography in the UK around 1840. To give us feel for the technology of the time, Douglas showed an example of the type of plate camera which he would have used. He also shared a few entertaining anecdotes about 'sagging bellows' and the dangerous magnesium powder flashguns which were the hazards of early photography.
Douglas's photos of old Glasgow and the West of Scotland definitely hit members' nostalgia button. We were transformed into time travellers, taking us back to pre- First World War West End photos of the University, the Botanic Gardens, Kelvin Hall and Kelvinbridge before the Underground was built. In these days it was horse drawn trams which ran along Great Western Road.
The net was then widened to take in the City Centre. Re-introducing us to well known stores lining Sauchiehall Street, Renfield Street and Buchanan Street. There was Lyons the stationers, Pettigrew & Stephen's, Daly's, Copland and Lye and RW Forsyth's not to mention the Grand Hotel at Charing Cross and Boot's Corner at Argyle Street. The last a popular meeting place if one didn't get a 'dizzy'!! A term uncommon in the 21st Century.
Douglas knew his audience well and finally extended his journey in time to the Broomielaw and travels 'Doon the Watter'. A childhood favourite of all members. There was the TSS Prince Edward at Bridge Wharf across the river waiting to transport people to Tighnabruaich. From here Douglas took us down the river via the Govan Dry Docks, John Browns on the way to Hunter's Quay, Rothesay, Millport and Largs. The last photo confirming Largs existed before Nardini's!
Finally Douglas's returned to photos of the city Centre showing places like Anderston Cross, Glasgow Cross and the Trongate. He included a view down the High Street showing tightly packed slum properties. An unusual subject for photographers. However, Thomas Annan was an interested witness and wanted to keep a record of the living conditions in the City. On one of the photos there was an advert for sets of teeth for 10/-. Douglas followed this by a photo of a Police Barrow used to take drunks to jail over-night. Strangely the two images were interlinked. We learned from Douglas that the drunks had their false teeth removed for fear of choking on them and put in a bucket. Can you imagine the sorry tipplers recovering their dental 'plates' following morning?!! The mind boggles.
So there you have it. A talk filled with nostalgia mixed with local history and Glasgow humour. Douglas's ancestors' photos provide a rich tapestry of our heritage. This pictorial history, allied to Douglas's boundless fund of useless information, really went down well.