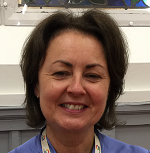 Colette has been the Communication and Marketing Manager of the Glasgow City Region City Deal Programme Management Office since March 2015. She is responsible for developing and implementing a communication and marketing strategy for both Glasgow City Region and the City Deal which requires close working with the eight partner councils' Heads of Communication and Marketing.
Prior to the City Deal, Colette was involved in strategies for communication and community engagement for the Council's role in the 2014 Commonwealth Games.
Colette cut her teeth on strategic marketing management with Lloyds TSB Group where she worked for 14 years working in a wide range of roles. Colette has a Joint Honours Degree in Italian and Marketing from the University of Strathclyde and has spent time studying overseas at the University of Bologna. She has further qualifications in photography, web design and programme management.
Intriguingly, away from work, Colette completed an M.A. in Antiques and Collectables from the University of Central Lancashire in January 2017, gaining a distinction. Her dissertation study focused on The Glasgow Style, an area on which surprisingly little new research or information exists. Colette continues to promote learning and information on the subject of The Glasgow Style, through a twitter feed and website.
This will provide an insight of Glasgow's future strategy and will be of interest to all.