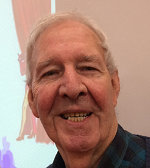 The Old Glasgow Empire : Bob Bain
Bob Bain, Secretary of the Scottish Music Hall and Variety Theatre Society, took us down memory lane as he outlined the history of the Glasgow Empire. He told us that his Society had its roots in the Sir Harry Lauder Society founded in 1979. While most of the members are found in the 'theatre towns' of Glasgow, Edinburgh and Aberdeen, the Society has Diaspora in England, the United States, Canada and Australia.
The Glasgow Empire took over the site of the earlier Gaiety Theatre which had opened in 1874. As entertainment tastes changed and the City grew, the Gaiety was demolished and replaced in 1897 by the bigger Glasgow Palace Empire Theatre. It was part of the thriving UK wide Moss Empire. The theatre's name was shortened to the Glasgow Empire in the early 1900s. By the late 20s the theatre building was found wanting and it was briefly closed in 1930 for a major refurbishment. This included an extension towards Renfield Street and the enlarged theatre re-opened in 1931.
Bob let a number of the best known Scots entertainers speak for themselves through a number of video clips. He had even managed to secure a brief clip of Sir Harry Lauder which he acknowledged that it wasn't of the best quality. However, it did leave members wondering on the basis of the clip how Sir Harry managed to be one of the highest paid entertainers in his day. A difficult call a century later on such limited evidence. However, one could perhaps see Andy Stewart's source of inspiration.
We saw a number of Andy's best known renditions including 'A Scottish Soldier' and 'Donald's Where's Your Troosers?' Lex Maclean featured in a number of highly entertaining sketches. He appeared in one wearing a suit made from a curtain like material. Maybe an inspiration for Billy Connolly decades later for one of his memorable Parkinson interviews! Last but not least we saw Chic Murray at his peak. He was telling an entertaining story about long noses, 'they run in the family' apparently!! It had the members in stitches and when the clip ended there were cries for 'More!!'.
Of course, there were many famous US stars such as Laurel and Hardy, Judy Garland, Betty Hutton, Abbot and Costello, Billy Eckstine, Frankie Laine and, very popular with the Glasgow audience, Danny Kaye. A Glasgow chocolate maker, Alf Ellsworth, often managed to infiltrate the backstage with a gift of chocolates and get himself photographed with these stars. It must have been good for sales! Unfortunately it all had to end and the Empire closed in March 1963 hastened by the advent of TV and the relocation of population to the peripheral estates and New Towns.
I'm sure the floor was covered with metaphorical rust falling off members' brains reprising memories from their youth. Many couldn't resist joining in Andy Stewart's songs and Duncan Macrae's rendition of the Wee Cock Sparra! This was a feel good event!