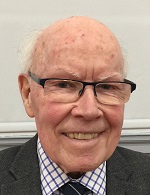 Born in Nairn, son of single-handed GP.
Qualified as doctor (3rd generation family) Aberdeen University.
After first two mandatory hospital posts, became an anaesthetist, eventually as consultant in the Victoria Infirmary, Glasgow, for 30 years.
After retiring, took up a second career in the History of Art, and became a Guide at Kelvingrove and at The Burrell Collection, taking tours and giving Lectures. I also guide at GMRC (Glasgow Museums Resource Centre, at Darnley), and Provands Lordship.
Chairman of Glasgow Antiques and Fine Art Society.. (monthly lectures in the Glasgow Concert Hall, Strathclyde Suite).
A busy grandfather, in Aberdeen and Hampshire (the Day Job).
Sporting interests: Golf, Skiing, Gin.